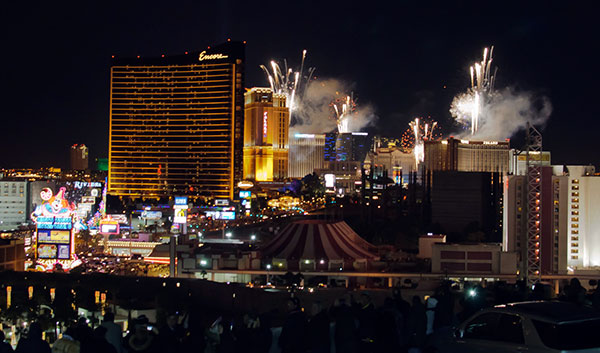 You're expected to take a trip to Vegas for your job this year and it happens to land during the change of years. If you are going to be spending New Year's Eve in Sin City, you may as well live it up and enjoy the experience, right? Here are a few points to keep in mind so your New Year's Eve is full of festivity.
Make Your Reservations Now
New Year's Eve is a time when it is imperative to have reservations for almost everything you do. Of course, you can grab fast food and take it to the street to watch fireworks, but it's more glamorous to take in all the city has to offer...especially for the new year. If your job didn't make reservations for your hotel, get on board in booking that right away as it'll be difficult to get exactly which room you desire on a moment's notice. If you plan on eating out, contact restaurants you want to frequent and reserve seating for two. You may want to indulge and have a date while you are away, so it's best to be prepared for the company.
Grab Yourself A Beautiful Girl
Being alone in a big city isn't all that fun. Sure, you can strike up conversations with people on the street or at establishments you visit, but having a pretty woman by your side throughout the experience is so much better. She'll be there to guide you through the areas you are unfamiliar with, give you recommendations on places to visit and make you look good the whole time you are in the public eye. She'll also be there for that ever-so-popular smacker you are anticipating at the stroke of midnight! If you need a date, browse the profiles of our escorts and pick out one you'd like to have help you bring in the new year.
Enjoy The Holiday Long After Midnight
The streets will be alive for a while after midnight, full of people enjoying the celebration as long as possible. Take in some of the sights and sounds and then consider heading back to your hotel with your escort. She'll make sure the new year starts off right. This can include a striptease, an invigorating massage, a bubble bath or shower for two, cocktails and television, or cuddling in the seclusion of your room. If you desire, she can stay there until the wee hours of the morning. You'll be begging your boss to send you to Vegas on business as much as possible after your time with this gorgeous woman. The good thing is, repeat customers receive VIP treatment, meaning you get a lot of bang for your buck.
With this information embedded in your brain, start the process of booking your reservations now. We can't wait to help you make your New Year's Eve one for the books.